Publishing the ILSSA Quarterly has been a core practice of ILSSA since our founding in 2008. The Quarterly, which comes out with much less regularity than its name would suggest, often includes a call-and-response in which members are asked to do something; that something then becomes the basis of an exhibition or a publication in a future Quarterly.
ILSSA member-subscribers receive the Quarterly in the mail; non-members are also welcome to subscribe. You may order all available back issues at a discount when first subscribing, or choose from what is available below: prices include shipping in the USA. Institutions, please note that you may subscribe to Impractical Labor in Service of the Speculative Arts as a periodical through EBSCO!
ILSSA News Bulletin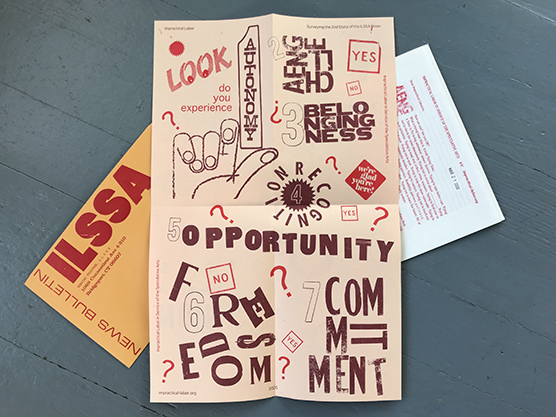 Sent on March 21, at the onset of the COVID-19 pandemic as experienced in the USA, a call for impractical laborers to contibute to A Trying Time: An ILSSA Quaranzine for Working Together, Alone and to reflect upon their practice for the Surveying the 2nd State of the ILSSA Union. Both projects are currently ongoing.