The 5th Annual ILSSA Group Residency: Embodiment
A remote residency in one's residence that took place June 24 to July 11, 2020. All program offerings were generously self-organized by ILSSA members.
Back to other ILSSA Projects here.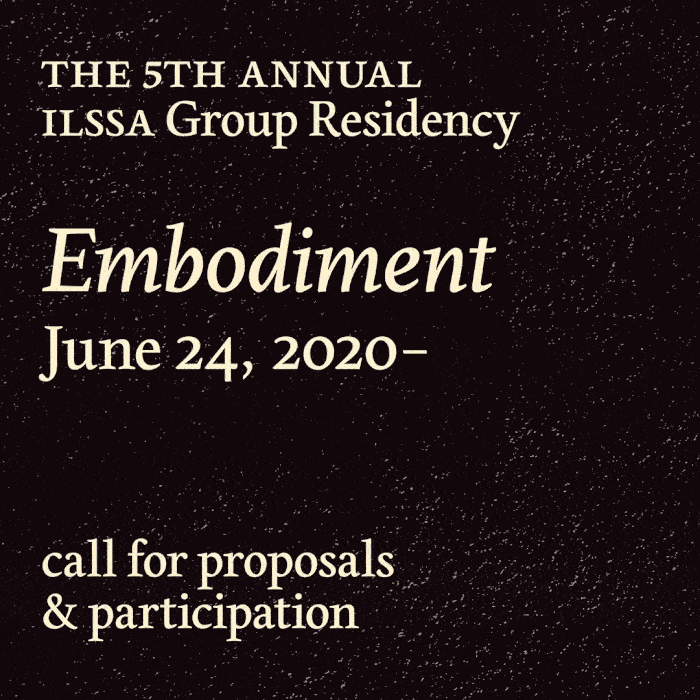 A Virtual Print Shop: Fostering Community During the Pandemic
Wednesday, June 24
1:30–2:30pm ET, watch recording on Vimeo
Amanda D'Amico, Pilar Nadal, Erin Sweeney, and Mary Tasillo

Print shops provide tools to artists, poets, and activists, but they also require people sharing equipment and space to work towards common goals. The Print Shop is inherently a community space, so during this time of quarantine and social change, how do we keep that spirit alive when we can not convene in person? This round table discussion will address how several teaching artists have addressed the issue with their own community-focused spaces: Lovely in the Home Press in Peterborough, NH; Pickwick Independent Press in Portland, ME; and the Soapbox Community Print Shop and Zine Library in Philadelphia, PA.

RSVP to Amanda, tiny.revolutionary(at-sign)gmail.com
Strengthening Bones Yoga Practice
Friday, June 26
5–5:30pm ET
Barbara Bryn Klare

Will do the 12 poses in the Osteoporosis Yoga Sequence protocol from the Dr Fishman 10-year study plus some warmup. Study shows that yoga appears to raise BMD (Bone Mass Density) in the spine and the femur safely. Open to all—will demo and also provide modifications and alternate poses.
Limited to 4. FULL.

RSVP to Barbara, barbara.klare(at-sign)gmail.com
Heart Drone
Saturday, June 27
1–2 pm ET
Lydia Moyer

The 7 vedic chakras or energy centers in the body are sometimes aligned with the notes of a 7 tone musical scale, beginning most commonly with C at the root. The heart chakra, which is the fourth or middle chakra, aligns with the F tone. The heart chakra is said to be the fulcrum between the energy of the earth and the energy of the cosmos. The sustained vibration of the F note subtly opens the heart. I'd like to invite folks to join in an experimental, hour-long F drone on zoom (440 standard). All you need is some way of producing a sustained F tone—an old accordion, your voice, a flute or recorder, even a phone app—anything, really. Drop in during the hour or stay the whole time. Feel free to keep your cameras off—just be sure you're not muted so that we can hear you.

RSVP to Lydia, lmoyer(at-sign)virginia.edu
Decipher a theme word to guide and sustain you through the next six months
Sunday, June 28
5–6pm, sign up for The Tending Year newsletter to access all workshop materials, or just watch the video
Kate Litterer

This workshop will offer participants a focal point for their personal, professional, and community efforts for the rest of 2020, which will ideally decrease decision making and increase personal connection with the actions one chooses each day. Specifically, Kate (a Slow Productivity Coach) will walk participants through (1) reflecting on their previous six months as creatives, activists, laborers, healers, learners, lovers, etc., (2) brainstorming and deciphering a theme word to guide and sustain them through the next six months, and (3) setting actionable and achievable goals to practice their theme word. Each participant will choose their theme word based on their values, passions, curiosities, goals, needs, desires, and dreams (Kate's theme words the last three years were "tend," "garden," and "intention"). Participants will leave the workshop with reflection prompts they can use to track their relationship with their theme word for the next six months. Please note that you are welcome to choose a new theme word each month or even week if you like! There are no rules to using a theme word—only a suggestion to find guidance through a focal point.

RSVP to Kate, kate.litterer(at-sign)gmail.com
Crip-Space
Monday, June 29, 1pm–3ish ET
Friday, July 3, 1pm–3ish ET
Tuesday, July 7, 1pm–3ish ET
Shannon Brooks

Experiment and incubate worlds with(in) Window Room, a studio in southwest Philly, both as a physical and virtual space.
A 3-part workshop using Window Room as a laboratory for micro-evolutions led by ideas from the disability justice movement. We will transform Window Room's Access Notes and the physical and virtual space to act as a fractal of the transformations we desperately need in our social, economical, and political structures.
A note about the facilitator: Shannon Brooks is an artist and facilitator living in Philly with multiple disabilities.
A note about the workshop: it will be facilitated and share voices/knowledge from people with disabilities, emphasizing the voices of queer BIPOC people.
The workshop is free, but if you wish to donate please use venmo: @window-room or paypal: sendmeanemail2000@gmail.com. Facilitators in monetary need will receive donation funds, all other donations will be given to BLM Philly.

Part ONE: Monday, June 29
1pm–3ish ET
Introduction to general concepts to disability justice and how to facilitate crip-space. Introduction to and experiment with neuroqueering, CRIP-SIGHT, and other scores made by disabled people. Explore the BODY—somatic exploration, deep listening, readings, movement scores. Explore the ENVIRONMENT—walks around the block, yard, apartment, room, brain. Group discussion. Introduction to ongoing discussion board.

Part TWO: Friday, July 3
1pm–3ish ET
Group warm up. Virtual accessibility. Look at Window Room as a virtual space. Our website, Instagram, access notes. Group discussion.

Part THREE: Tuesday, July 7
1pm–3ish ET
Group warm up. Physical accessibility. Look at Window Room as a physical space. Look at video tours, look at what does not work, dream of adaptations, enhance what does work. Possible evening programming.

RSVP to Shannon, shannonlynnbrooks(at-sign)gmail.com. If you have any additional access needs, please email 48-hours in advance.
Let's Talk About Anti-Racism
Monday, June 29
6–7pm ET
Katie Latona

As a White* person, I would love to talk with any interested folks about anti-racism. When do we have anti-racism conversations, and with whom? How do you reach new people who may not have the resources/info/person to have a conversation with? How do we dismantle Whiteness without centering it? How do you start a conversation without centering yourself?

RSVP to Katie, katie.latona(at-sign)gmail.com
*A note about our language: following Ta-Nehisi Coates's lead, we are capitalizing both Black and White in recognition that they are both constructed racialized experiences. You can read Kwame Anthony Appiah's case for this usage over at The Atlantic.
Sunset Park Walking Tour
Tuesday, June 30 & after
Sarah Nicholls

A virtual walking tour of the Sunset Park neighborhood in Brooklyn, focusing on the waterfront industrial area, its history, present and future. Participants will reflect on the immigrant communities of the past and present; the post-industrial landscape; the ways nature has adapted to the built environment, the threat of gentrification, and the health impacts on communities living near industrial neighborhoods.  This self-guided walking tour will exist as a video and a google map, linked via my website, as a companion piece to a currently-being produced pamphlet. Participants can contact me to receive a copy of the pamphlet in the mail (up to 50 people) and can access the video and map through my website starting on 6/30 (unlimited).
Unlimited walkers, limited to 50 to receive publications.

RSVP to Sarah, phosphorescentfacehighlighter(at-sign)gmail.com
Crip-Space Part 2
Friday, July 3
1pm–3ish ET
see June 29 for full description
Crip-Space Part 3
Tuesday, July 7
1pm–3ish ET
see June 29 for full description
12th Annual ILSSA Festival to Plead for Skills
Tuesday, July 7
3:30pm–5:30pm ET drop-in virtual studio hours
ILSSA Co-Operator Emily Larned

Each year on the seventh day of the seventh month, ILSSA celebrates its own version of the Festival to Plead for Skills. The festival is derived from the Chinese holiday of Qi Xi and the Japanese festival of Tanabata, in which celebrants wish for the betterment of their own craftsmanship. Instead of wishing, the ILSSA festival is a holiday of practicing: using a tool, trying a method, honing a technique. ILSSA members and friends may observe the Festival wherever they find themselves, by consciously engaging with their skills. Those who would like an opportunity to practice in community with other members are invited to join the drop-in studio hours via remote video conference, whether for a couple of minutes or hours.

RSVP to ILSSA, operator(at-sign)impractical-labor.org

Festival to Plead for Skills Conversation Hour: Decolonizing Time
Tuesday, July 7
6pm–7pm ET
Emily Larned

How can we decolonize our time from capitalism, patriarchy, and White supremacy? Especially as many of us are now working from home in multiple capacities, how do we resist "hustle/grind culture" and the work of always working? What can we learn about rest as radical resistance from Tricia Hersey's The Nap Ministry, and the time-values of the Lakota people? Those who RSVP will receive links to 3 readings and discussion questions to help frame our conversation and workshop our own experience of time, as well as how we may assist in decolonizing the time of our colleagues, collaborators, and/or students.
Limited to 10, FULL.

RSVP to Emily to receive the readings/questions and/or for a space on the waitlist, local917shoprc(at-sign)impractical-labor.org
Abolitionist Teaching
Wednesday, July 8
6pm–7pm ET
Nike Desis

Repurposing our Pedagogies: Abolitionist Teaching in a Global Pandemic is the title of a recorded panel hosted by the Education Liberation Network. The title of the program might make it seem like it's for educators in just the context of COVID, but it is easily about all of the educational contexts in the racialized society we live in. The program is about an hour and a half is really great ground setting for anyone working in any group. It's inviting, energizing, and inspiring. Panel features: Stephanie Cariaga, Bettina Love, Sagnicthe Salazar, Carla Shalaby, Marylin Zuniga and is facilitated by Farima Pour-Khorshid and Chrissy A. Z. Hernandez.

Following individual viewing, in this ILSSA hour I want to suggest a discussion where we can offer each other feedback and support on how we may carry this embodied work of abolitionist teaching into our specific institutions/ groups. How may we practice liberation in the programs we may run and the classes we may teach or the work we may make, or whatever the educational context is? And from our positions as makers, librarians, teachers, curators, etc, how also do we imagine materially affecting the greater structures of the institution/ groups we work in?
Limited to 8.

RSVP to Nike, nike.desis(at-sign)gmail.com
Intentional Giving
Friday, July 10
2:30pm–3:30pm ET
Ruth Bardenstein

A conversation and group exploration on cultivating a personal giving ethos and plan (regardless of budget!). What are important considerations and constraints to think about (values, effectiveness, limitations)? What are different types of contributions/giving (monetary and non-monetary)? What are the range of places to give to (local/regional/national/global; individual/org)? How to avoid scam/problematic orgs? I will augment my list/notes with what comes out in group discussion and make it available through ILSSA.
Limited to 15.

RSVP to Ruth, ruthbpc(at-sign)sbcglobal.net
Listening for Liberation
Saturday, July 11
2pm–3:10pm ET
Tristan Gordon

In a culture that equates action with communication and creation, what role can listening and silence play in the struggles for collective liberation? "Just as speech has its degrees of integrity," writes Jane Brox in her book Silence, "so does silence, which can become an unthinking exercise or an excuse for non-involvement." Indeed in 1987, the US AIDS activist movement, in its call for the immediate recognition of healthcare as a right, began to rally behind the motto Silence = Death. Avram Finkelstein, founding member of the activist/artist collective responsible for the iconic poster and tagline, writes of that time, "We talked about the deadly effects of passivity in crises, communal silence and the nature of political silencing, silence as complicity, and scenarios where bystanders became participants without intending to be." In this workshop, we'll use exercises to explore modes of listening to our sonic environments and visceral experiences, with the goal of strengthening deeper listening to inform deeper action.

RSVP (including any access needs) to Tristan, tristang(at-sign)gmail.com
Residency details
Unless otherwise specified, all offerings will be held via Zoom. Please RSVP directly to the host of each event in advance. The host will email you the Zoom invitation prior to the event. Recorded sessions will be available for viewing on Vimeo.

*A note about our language: following Ta-Nehisi Coates's lead, we are capitalizing both Black and White in recognition that they are both constructed racialized experiences. You can read Kwame Anthony Appiah's case for this usage over at The Atlantic.